Biography
It's not really a hobby to write about myself, but this is meant for those who want to know the woman behind the camera and website. Underneath a short history lesson with some pictures.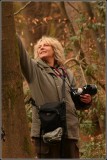 Yvonne van der Mey was born in Leiden (the Netherlands) as the last one of the family. Her father, specialist in Dutch flora, "infected" her with an intense love for nature, animals and photography, and not only made her look carefully to all that's alive, but learned her "to see".
In 1984 she met Nico Bulder, wildlife painter/ Illustrator, who's life also had been dedicated to nature and animals. It's hard to imagine for either of them, to find a more compatible "other half". In 1988 a third nature lover was added to the family, when their son Kevin was born. Nico and Yvonne now live at a very special place in the woods with a large number of dogs, cats and other animals.
In 2001 a dream came true, when Yvonne and her family went for their first trip to Southern Africa, and after that trip many things changed for them. Hopelessly addicted to this part of the world and to photography, she learned how to work with modern equipment rapidly, and the quality and professionalism of her photo's increased fast.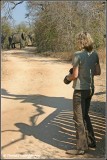 In 2007 Yvonne took her chances and her company "Yvonne van der Mey Wildlife Photography" was born. Driven by her passion for nature and photography and her experience in teaching, her workshops and courses were a great success immediately. From the start there has been close cooperation with the largest wildlife organization in the Netherlands, Natuurmonumenten. She always works with a maximum of 8 students to maximize attention for each and all of them.
Yvonne still works two months a year in Africa, and specifically the African bush and Kalahari Dessert stole her heart. In July 2012 there will be the possibility for 8 photographers to join her and Nico on a Photography Trip to South Africa.
In 2009 Yvonne received the CIC International Award for a beautiful photograph of a male Leopard. Yvonne works for Nico and several other artists worldwide, the University of Capetown, Sanparks, company's, Governmental organizations and NGO's in the Netherlands. In 2011 six of her photographs gained a place in the semi-finals of Veolia/BBC Wildlife Photographer of the Year contest (over 43.000 participating photographs).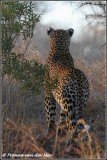 Yvonne enjoys to push the boundaries of photography, and especially from movement and exposure, and brings that together in very special "fairy tale" like images. You can find them on the gallery of Creative Photography. There are serious plans to make a book with these photographs.
It seems like the next generation is infected with the same virus, because Kevin won in December 2003 the price of the public in the WWF-Photo-Award, and the third price of the jury. He has developed himself to a fine photographer with his own signature. His specialty is creative macro photography. His work can be viewed on Deviantart.com