Video's about Yvonne van der Mey
I hope you enjoy these videos of me and my work taken by my husband, Nico Bulder, who is a wildlife painter and a videographer.
Working with Elephants in Kenya
A little while ago we were sent to Kenya, to take photographs and film footage on behalf of the David Sheldrick Wildlife Trust. This great organisation is run by Dame Daphne Sheldrick and her daughter Angela; two magnificent ladies.
They take care of orphaned elephants from the whole of Kenya, and even from other countries, for more than 50 years. These orphans are mainly victims of poaching or elephant-human conflicts.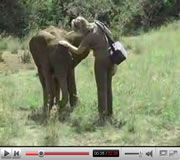 Photographing Toadstools and Nature in The Veluwe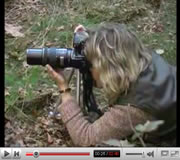 While I love working in Africa, because of the light, diversity and number of animals you see, I must say that The Netherlands is very beautiful too. Nature has become very scarce in our little country, and you have to look very hard to find wild animals to take pictures of. On the other hand, we have a rich variety of plants, toadstools and birds, and in Spring and Autumn, the spheres in the woods are fairy-like.
Watch the video: "Natuur Momenten" [Nature Moments] – a photo impression of the four seasons in the Veluwe
Watch the video: "Wildlife Photographer Yvonne van der Mey" working in the Kruger Park